2022-2023 NAWIC Atlanta Chapter #49: Board of Directors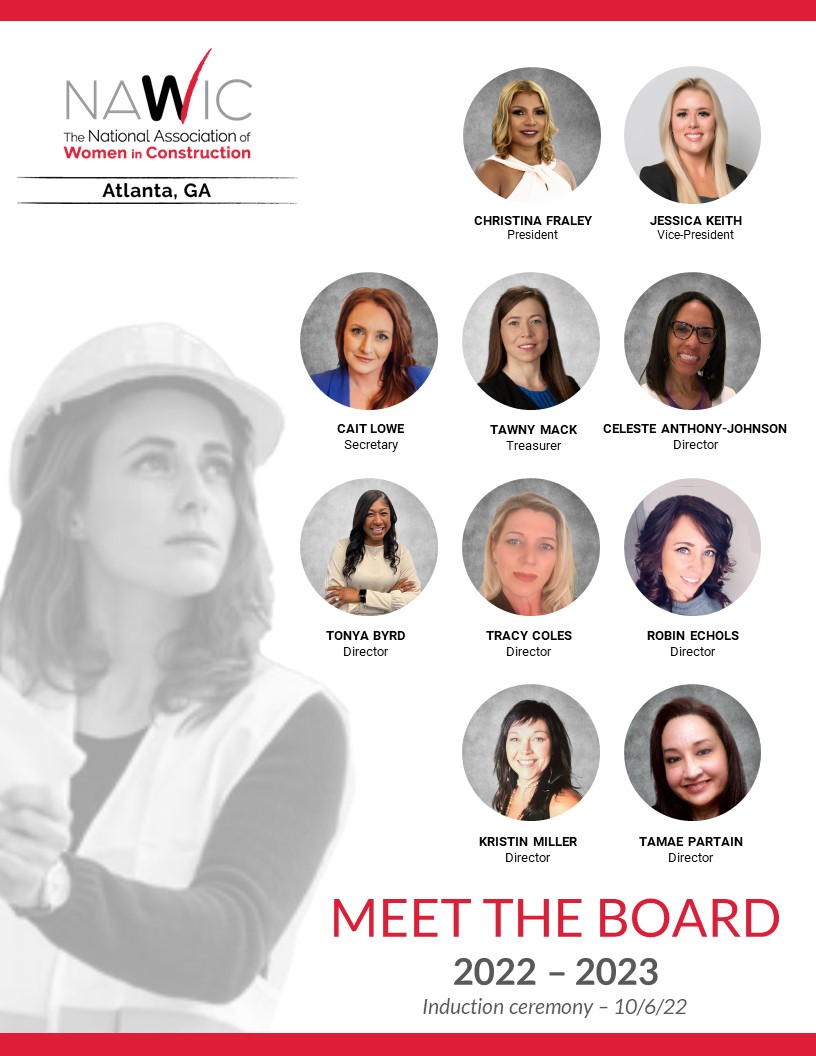 NAWIC Atlanta, Chapter # 49
MISSION:
Championing women to impact the direction of the construction industry.
NAWIC provides education, community and advocacy for women in the construction industry.
Event Specific Sponsorship Opportunities
Ente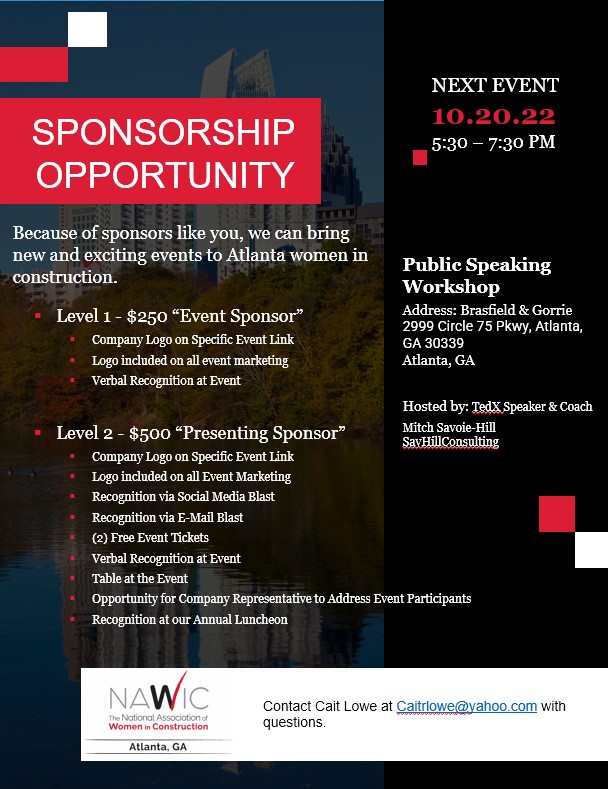 r your text here.
UPCOMING National industry Events
2022 NAWIC SE Region FALL CONFERENCE
Sept. 16 & 17, 2022 Ft Myers, FL
  https://www.nawicsoutheastregion.org/event-details/nawic-southeast-fall-conference-2022
COMMITTEE MEETING SCHEDULE
PR & Marketing: 
2nd Wednesday  6:30 PM Conference Call
Chair: Kim Whitehead
Professional Development & Education:
2nd Wednesday 11:30 AM Conference Call
Chairs: Cait Lowe
Membership:
1st Wednesday 6:00 PM Conference Call
Chairs: Brett Henderson, Lisa Willis
Community Outreach:
Chair: Michelle Marquis
Interested in joining? Contact:
 info@nawicatlanta.org
Event Calendar
29 SEP 2022 · 4:00 PM

in

165 Courtland St NE, Atlanta, GA 30303, USA


See More

30 SEP 2022 · 8:00 AM

in

Sheraton Charlotte Hotel 555 South McDowell Street, South Tower Charlotte, North Carolina 28204

6 OCT 2022 · 6:00 PM

in

SGR Law: 1105 W Peachtree St NE #1000, Atlanta, GA 30309

12 OCT 2022 · 4:30 PM

in

Row House, 1100 Howell Mill Rd., # A02, Atlanta, GA 30318


See More

20 OCT 2022 · 6:00 PM

in

1105 W Peachtree St NE #1000, Atlanta, GA 30309, USA
New Member spotlight
NEW MEMBER SPOTLIGHT!
Haley Rhoads:
Everyone, please meet our newest member, Haley Rhoads.  💕

Haley is a Surety Bonds Specialist with Parrott Surety Services, LLC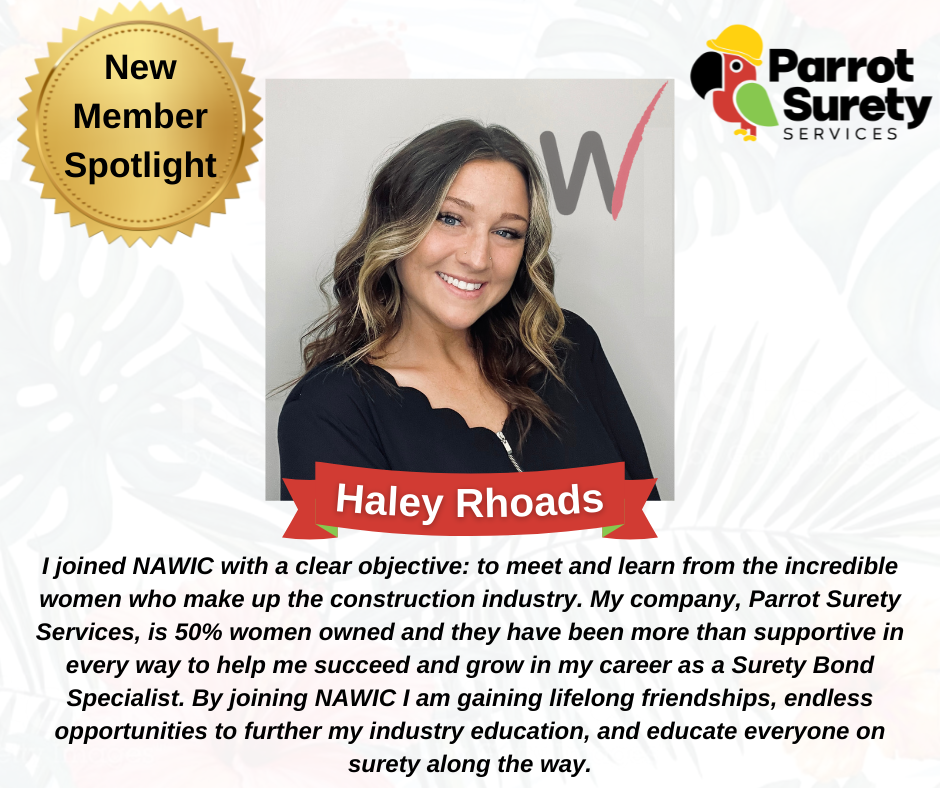 "I joined NAWIC with a clear objective: to meet and learn from the incredible women who make up the construction industry. My company, Parrot Surety Services, is 50% women owned and they have been more than supportive in every way to help me succeed and grow in my career as a Surety Bond Specialist. By joining NAWIC I am gaining lifelong friendships, endless opportunities to further my industry education, and educate everyone on surety along the way."
 - Haley
Member Spotlight!
MEMBER SPOTLIGHT!
Amanda Foster:
 I was introduced to NAWIC by a coworker, she has a friend that was already a member. We got with our COO and expressed our interest in representing our company in the association. Cratos Equipment for 10 years has supported career growth and development for women in construction.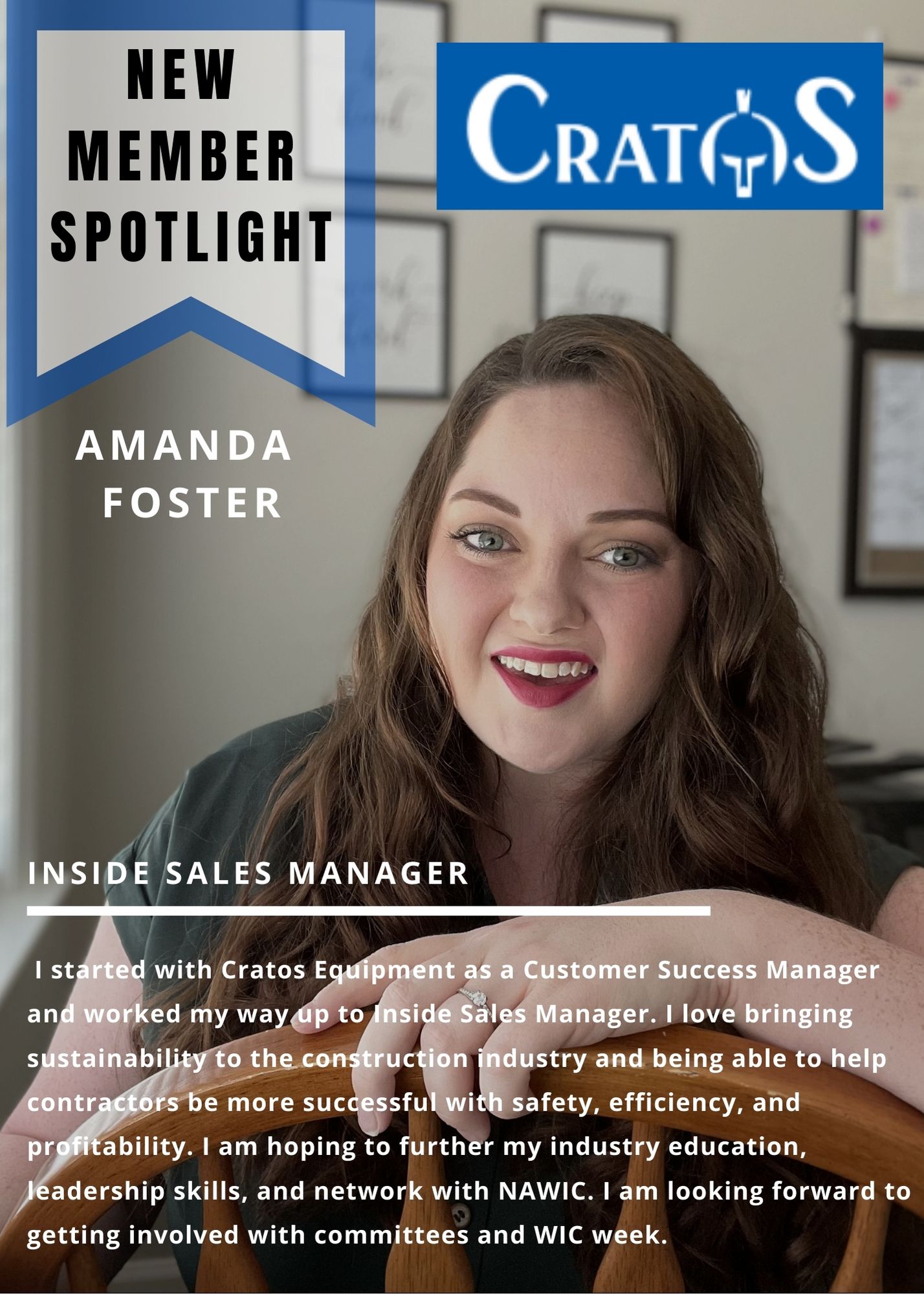 I started with Cratos Equipment as a Customer Success Manager and worked my way up to Inside Sales Manager. I love bringing sustainability to the construction industry and being able to help contractors be more successful with safety, efficiency, and profitability. I am hoping to further my industry education, leadership skills, and network with NAWIC. I am looking forward to getting involved with committees and WIC week. 
Welcome Cratos Equipment and Amanda Foster!
FROM OUR NATIONAL SAFETY COMMITTEE
To subscribe to OSHA's bimonthly QuickTakes, a digest packed with information about OSHA initiatives and workplace safety and health: