NAWIC Atlanta and Brasfield & Gorrie Join Forces!
4:30 PM - 5:30 PM Doing Business with Brasfield & Gorrie
5:30 PM - 6:30 PM Networking & NAWIC Business
NAWIC Atlanta and Brasfield & Gorrie are teaming up to present members and non-members a special business and networking opportunity.
Brasfield & Gorrie recently cut the ribbon on their new Atlanta office, and they have enthusiastically invited us to learn about doing business with the company, upcoming projects, and a new mentoring initiative.
We will also get the opportunity to hear from Brasfield & Gorrie women and how they are positively impacting and dominating their field.
Join in the fun and learning as we network with industry professionals from NWBOC Hispanic Chapter, ABC GA, and NABWIC.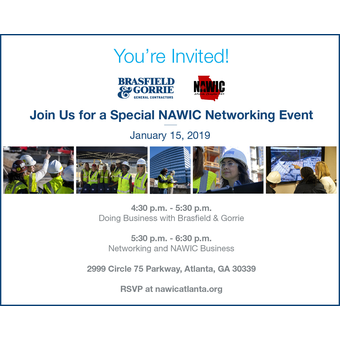 2999 Circle 75 Pkwy, Atlanta, GA 30339