Business Meeting: NAWIC Atlanta Chapter #49 (Hosted by DE&I Committee)
Business Meeting: NAWIC Atlanta Chapter #49 (Hosted by DE&I Committee)
April Business Meeting & FIRST Hard Hat Ceremony Schedule of events:
Date: 4/13/2023

Time: 6-8:00pm

Location:

Cooper Cary Offices: 191 Peachtree St. NE Atlanta, GA 30303

(Peachtree Towers)

Schedule of events:

Networking 15 min

Business Meeting Agenda 20 min

Topic Discussion:

Atlanta Chapter D&EI Committee is proud to present:

An opportunity for different women in our industry to come together for an opportunity to Be Real Authentic Vulnerable and Empowered
Visit nawicatlanta.org to learn more about our organization or contact Kellie Fletcher at Kellie.Fletcher@BDRpartners.com for any questions about the upcoming event.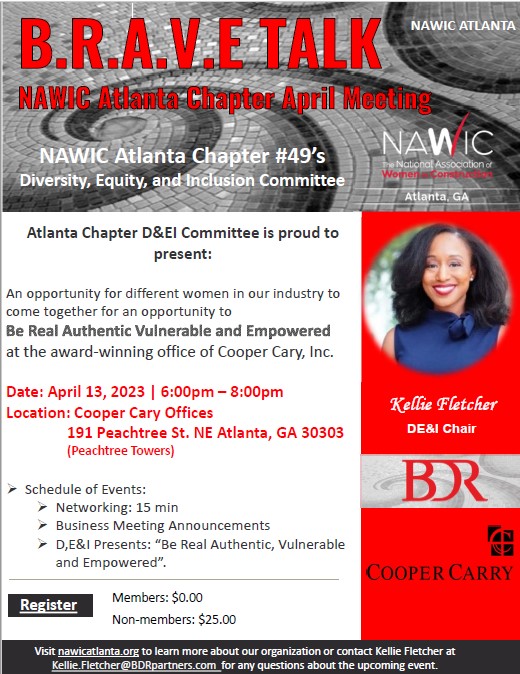 Hard Hat Ceremony:
Cost $25.00 what is included:

Hot Pink or Light Pink Hard Hat

NAWIC HH sticker

Certificate of membership

Individuals to be called up to collect their hard hat, sticker and presented with certificate.

Social media call out individual & their associated company in monthly social blast.
(email Cait@prettyprettyprecon.com if interested in purchasing Hard Hat Ceremony Participant - must sign up before 4/6 or sign up for this monthly business meeting.)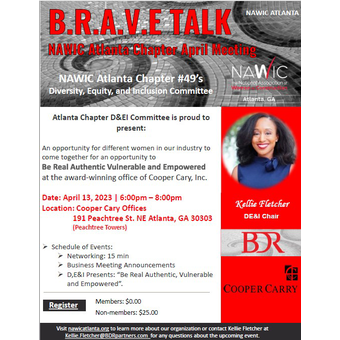 Cooper Cary Offices 191 Peachtree St. NE Atlanta, GA 30303 (Peachtree Towers)