Event Sponsorship Opportunities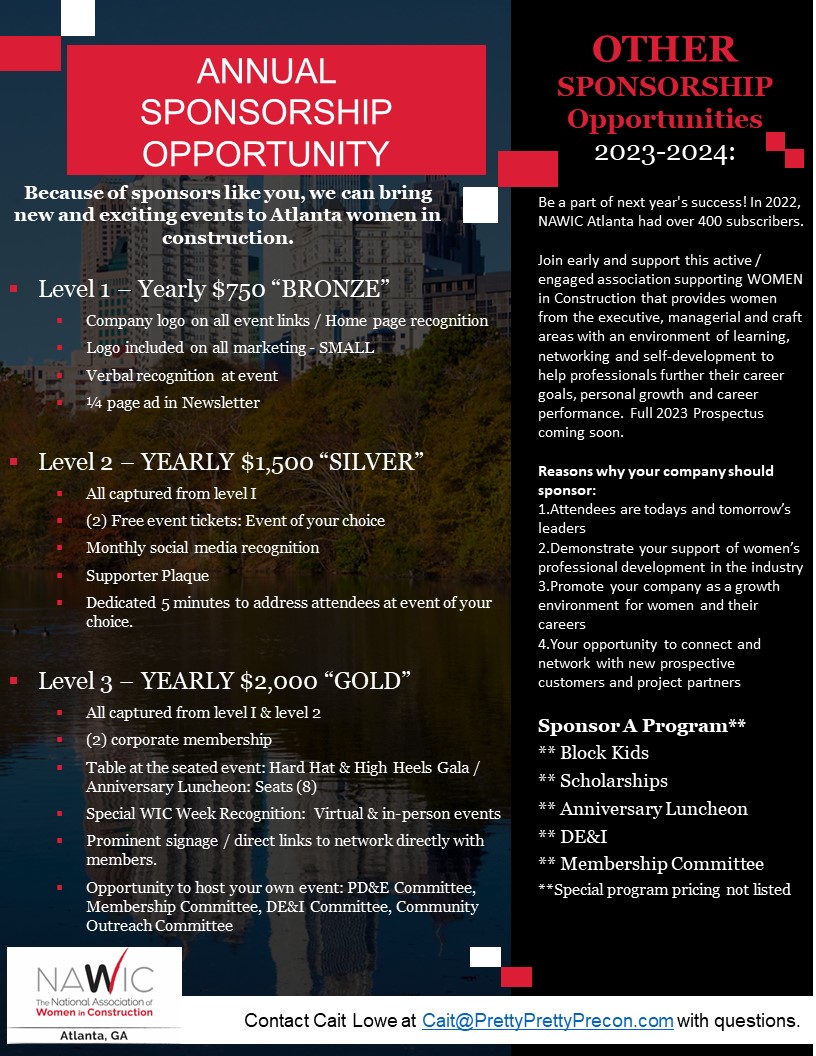 BECOME A SPONSOR
BECOME A SPONSOR: NAWIC Atlanta Chapter #49
NAWIC's core purpose is to enhance the success of women in the construction industry and our chapter's goal is to help educate and promote leadership to women in the construction industry. A NAWIC sponsorship allows companies to annually demonstrate commitment and support of these values within our community.
With a variety of sponsorship opportunities available, sponsors like you allow the leadership and membership of our chapter to execute programs that introduce construction as a viable career path, promote construction trades as another alternative to a successful career choice, work with students from elementary to high school with our Block Kids and Design Drafting Competitions, and introduce a wide variety of professional development and education to promote professional growth.
As a not-for-profit organization, NAWIC continue to work towards their mission to champion and empower women in the construction and related industries to reach their full potential, it is important that we have industry sponsorship in enabling us to do so.
NAWIC appreciates generous support from organizations across all areas of the construction industry. This support enables NAWIC to provide first-class events for its members, a higher level of governance, and nationwide Connecting in Construction programms to name a few.
There are so many reasons to sponsor NAWIC Atlanta. One of best ways to demonstrate partnership to the building and construction community is that our supporters are a solution provider. NAWIC is an exciting growth point, and we would appreciate any assistance and support for us to be the leading voice for women in construction.
Sponsors will build relationships with new and existing networks, based on our relaxed face to face environment and networking atmosphere. Together we can focus on our events, community and networking environment to build a strong partnership. -Expose your brand to powerful decision makers within the building and construction industry-Demonstrate your thoughtful understanding and reputation that endorses gender equality-Be the voice that stands for gender balance in workplaces, you set the bar for others to follow
Your sponsorship will allow the Atlanta Chapter to plan, promote and execute the following programs:
Installation Ceremony of New Officers

General Membership Meetings:
- Professional Development & Education 

- DE&I Industry Association Meetings

- Industry Trends
Regional Leadership Meetings

Career Fairs

Women in Construction Week Celebration: March

Block Kids Competition – Elementary School Students

Drafting Design Competition - High School Students

NAWIC Scholarship for High School and College Students

Local Philanthropic Events Throughout the City.
To learn more about NAWIC's Sponsorship Opportunities, please contact us at info@nawicatlanta.org