President: Brett Henderson
United Rentals
Brett was encouraged to join NAWIC four years ago by her District Manager. United Rentals is extremely focused on inclusion and diversity and Brett was asked to be the representative for the Atlanta District. She joined as a member and organically grew through the ranks; Committee Chair, Board Director, Vice President, President-Elect, and now as our chapter President. She is very passionate about connecting like-minded, strong professionals and empowering women to build and follow their confidence and rise to the top. Before moving to Atlanta, she served on her community's Executive Board as Secretary and chaired multiple committees. These positions developed her leadership, communication and organizational skills. Her current role at United Rentals allows her to support the sales team and develop small equipment product lines.  
Her favorite thing about being a Regional Product Development Manager is the opportunity to coach her team and exhort their natural talents and abilities.
United Rentals Tool Solutions works closely with general contractors, industrial contractors and trades such as mechanical, electrical and plumbing to provide total onsite tooling solutions, but it's not just not about renting tools, it's about labor productivity, quick access to the right tool for the right job, visibility and transparency into your tooling habits, resulting in higher margins.
In her spare time Brett enjoys volunteering in her community, attending Atlanta professional sporting events, craft beer and spending time with her family.
Vice President: Lisa Willis
WWPS, LLC - an Alberici Enterprise
Lisa is Director of Business Operations where her focus is the development of management, personnel and systems related to financial performance, contract administration, administration of human resources, project controls, and risk management. WWPS is an Alberici Enterprise, specializing in the water market. Alberici is consistently ranked among the top 40 construction companies in the United States by Engineering News Record. 
Lisa is a Georgia licensed Utility Manager, Certified Construction Industry Financial Professional (CCIFP), and is OSHA 30-hour certified.  Lisa is also a Certified Master Trainer by the National Center for Construction Education and Research (NCCER), a non-profit education foundation that is a leading source for craft training. 
She previously served two years as a NAWIC-Atlanta board member and as chair of the Professional Development and Education Committee where she spearheaded bringing our mentoring program to life, partnering with local colleges and universities to pair students coming into the construction industry with women leaders and role models.
Lisa enjoys spending time with family, backpacking and hiking with her husband, snowboarding  and yoga.
Treasurer: Nicole Sorrells
Allied World Assurance Company
Nicole Ferris-Sorrells has been a resident of Atlanta for over 17 years. A graduate from Louisiana State University, she holds a Bachelor of Science Degree in Corporate Finance. Her career has focused on Commercial Insurance with positions held for Risk Management, Finance and Business Development. Nicole has been with Allied World Assurance Company since 2009; with the 3 years dedicated solely to Construction Liability.
While only a two-year member to the NAWIC organization, previous experience as an association Treasurer motivated Nicole to take interest in the position of treasurer with the NAWIC Atlanta Chapter.
"The construction industry teaches me something new every day; and they say we teach what we learn. So when my children shout out – Tower Crane! Excavator! – it brings a big smile."
Secretary: Claire McGrath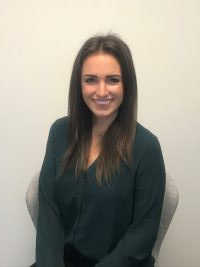 American Global
Claire began her insurance career with American Global in 2016 where she continues to gain valuable industry experience working and advocating on her client's behalf.  As a Senior Account Associate, Claire is in contact with her clients on a daily basis and understands the importance of a timely and detailed oriented work product.
In 2018, Claire was elected to the Board of Directors for our chapter, and has served as a committee chair for Membership and the Block Kids Competition, an event that introduces elementary age students to the world of construction. Her outstanding efforts for our chapter were recognized with a 2019 "Rookie of the Year" award.
Claire graduated with a Degree in Psychology from Georgia State University. She currently holds a Georgia Resident Property and Casualty license. In addition, she has also earned her Construction Risk and Insurance Specialist (CRIS) designation.
Immediate Past-President: Erica Jean-Baptiste
Women Gone Global Partners, LLC
Erica Jean-Baptiste was born in the Caribbean Islands of Trinidad & Tobago. She fulfilled over 20 fruitful years with Spectra Contract Flooring, a division of Shaw Industries, Inc. before co-founding her own company, Women Gone Global Partners. Her experience includes contract compliance administration, credit management and accounts receivable manager. Erica has been noted as a continuous catalyst for innovation and her passion for promoting education to young women about the opportunity in the construction industry is relentless.
She volunteers as a speaker for the Goodwill Industries' Women in Construction program, is involved in other mentorship groups such as Women of Notability (W.O.N.), COH Church Youth Group, and Host Committee for Africa's Children Fund, a Non-profit Organization.
When she is not planting seeds of inspiration throughout her community, she thoroughly enjoys dancing and traveling.
Board Director: Jill Radsdale

Fulcrum Construction
Jill is a senior project manager for general contractor Fulcrum Construction where she manages, organizes and coordinates multiple aspects of the organization, and heads up her company's intern committee.  Jill is also on the advisory board for ConstructReach, a Target Construction Diversity Initiative.  She is excited about a recent initiative of the advisory board to create a field day experience where high school students can spend the day on a Target Remodel jobsite. The pilot program will serve as a role model for 2020 and expand to other Target Remodel projects across the United States.
A fun fact about Jill is that she is currently living in a "tiny house" with her husband and three dogs while they plan and build their "forever" home in the upcoming year.
In her spare time, Jill enjoys gardening, camping, fishing, hunting, getting her property "ready for some animals" and spending time with her seven grandchildren.
Board Director: Christina Fraley

Media Genius, LLC
Christina  is an electrical contractor and the CEO of Media Genius LLC. In addition to serving on the Board of Directors, Christina has served on numerous NAWIC committees.  She was the recipient of NAWIC's Rookie of the Year award in 2018. Christina is passionate about increasing the number of women working in Mechanical, Electrical and Plumbing fields. 
She is also involved in State Representative Dar'shun Kendrick's Diversity Circle, the National Women Business Owners Corporation (NWBOC) and the National Association of Women Business Owners (NAWBO).
In her spare time, she is a long distance runner who has completed a number of full marathons. She also enjoys fishing and spending time outdoors with her family.
Board Director: Tamae Partain
Atkins Global North America
Tamae is Project Director with Atkins Global North America where she touches all aspects  of civil engineering, as well as project management, construction management, and program management.  She has a vast amount of experience with infrastructure projects including building construction, water treatment plants, dams, reservoirs, landfills, railroad, materials, parks, roadways, bridges, pedestrian enhancements, traffic, as well as ATMS / ITS Fiber. "My clients present me with an idea and I make it happen. I take projects through concept, design, environmental, land acquisition, utility coordination, funding / finances, permitting, stakeholder coordination, public relations, contract administration, bidding, procurement of goods and services, scheduling, construction, submittals, testing, QA/QC, and audits until completion."
Tamae is in her second year serving as a Board Director.  She also served as a mentor in our NAWIC-Atlanta mentoring program. 
She likes to spend time with her family and precocious 7 year old (who is just like her mom).  She likes to read, research, solve puzzles, and try to do things to challenge herself.  She is on the council at her daughter's school and volunteers in the community as well.
Board Director: Tawny Mack
Carlock, Copeland & Stair, LLP
In her current role as Of Counsel, Tawny serves as the lead attorney for the Design Professional Practice Group for the firm's Atlanta office where she manages other attorneys and takes the lead in business development and marketing matters. 
She is a graduate of the State Bar of Georgia YLD Leadership academy, and has been active in with State Bar of Georgia YLD since 2013, serving as a committee chair, Executive Council member, and Regional Representative. During the upcoming bar year, she will serve as a Director of the Health and Wellness Committee. Tawny also serves as the Communications Chair of the Women in the Profession Section of the Atlanta Bar Association.
Tawny fills her spare time with Orangetheory fitness, jogging, and spending time with her husband, Zack, and her rescue pets,Atticus Finch, Webster Bivens, and Lyric the Cat.
Board Director: Mitch Savoie Hill
SavHill Consulting, LLC
Mitch Savoie Hill, CPC is the founder and CEO, Lead Coach and Trainer for SavHill Consulting, LLC. 
In addition to serving on the Board of Directors for the National Association of Women in Construction, and various committees in organizations such as MPI, CAI and BOMA, she is a professional member of the National Speakers Association and International Coach Federation. Her many leadership positions such as Director of Business Development in the Construction Industry, Director of Food and Beverage for a 5-Star Hotel and Restaurant Operations Manager, have equipped her with an extensive toolbox of successful practices in sales, public presentation, and leadership. She shares these tools in an enthusiastic and dynamic fashion, leaving audiences not only educated, but energized.
Mitch is a Certified Coach, Certified DISC Practitioner and Professional Speaker. She is deeply passionate about delivering dynamic workshops and keynotes on topics including Time Management, Public Speaking, Customer Service and other leadership-relevant topics.
Parliamentarian: Lynn Logan

Chasm Architecture, Inc.
Lynn has been a member of NAWIC for 33 years, and has been a part of the Atlanta Chapter for 28 of those years. Lynn has been recognized with the prestigious chapter Member of the Year Award (2013), Lifetime Member of the Year (2019) and a Region 2 Member of the Year Award. Lynn was one of the founding board members of the NAWIC Atlanta Scholarship Foundation.
Lynn manages accounting, insurance and human resources for Chasm Architecture.
She loves animals and is the proud owner of a Yorkshire Terrier named Lacey.