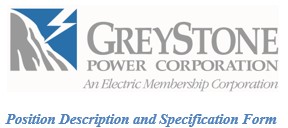 Job Title: Commercial Energy Engineer
Organization: Commercial & Industrial Marketing
Reports To: Department Manager, C/I Mktg. & Economic Development
Effective Date: March 2022
Consultant to Commercial & Industrial Members on matters that add value to their services and enhance the efficiency and economic status of the Corporation. To be member focused, a service strategist, business energy consultant and GreyStone Power team player. Adapt and focus on improvement in processes.
Safety and Corporate Standards
Perform all work in a safe manner, encouraging others to do the same, and reporting unsafe situations, environments, and work procedures.
Maintain working knowledge and abide by the Cooperative's Board Policies, Service Rules and Regulations as well as the Cooperative's various rate schedules and service charges.
Complete all assigned work in an accurate, timely, and efficient manner.
Maintain a neat and orderly work area.
Commercial and Industrial Marketing Consultant
Ensure a competitive and proactive marketing solutions for commercial and industrial members.
Ensure marketing strategies achieve company objectives.
Respond to Member concerns in a timely manner with value added solutions.
Establish reasonable annual goals for marketing; provide a quarterly report to monitor these goals.
Develop internal communications support network, O/E, MS, Billing, Construction, Meter Apparatus.
Provide one to one assistance with billing & member Services to rapidly resolve Member problems.
Provide technical and soft skill assistance to O/E and Construction.
Customer Choice Commercial and Industrial Loads
Establish and maintain professional relationships with commercial/industrial developers, architects, and engineers.
Promptly investigate all prospect information, and ensure proposals for service are delivered.
Obtain accurate descriptions of new member power supply requirements and communicate these to appropriate departments.
Ensure load management techniques and rate incentives are communicated to prospects.
Coordinate commercial and industrial member needs with other departments.
Ensure all Large Power Members have an assigned representative and maintain a high level of service.
Administrative
Develop department work plans and budgets
Provide a quarterly report on activities.
Provide support and assistance relating to the overall marketing/member services & communications efforts as required or directed.
Provide support and assistance to other Cooperative Departments as required or directed.
Ensure annual collection/update of changes to Municipal territory maps for proper collection of Franchise Fees
Assist with the Annual Meeting as required or directed.
Perform other duties as may be required or directed.
Required Education, Knowledge, Skills and Abilities
Bachelor's Degree in Engineering or a related field is required.
Specialized educational courses in electricity may be required within six months following appointment of the position. Exception to these requirements may be made only in consideration of related favorable experience and if the applicant demonstrates a commitment to a required program of self-development through required course work.
Minimum five years' experience in Commercial or Industrial Marketing.
Experience in program development, commercial and industrial marketing and economic development.
Experience in negotiating contracts and commercial industrial energy audits.
Technical knowledge necessary to coordinate and provide technical assistance for commercial and industrial electric utility loads.
Working knowledge of marketing strategies and techniques as pertains to commercial and industrial members and prospects. Working knowledge of Power Quality & Power Quality Analyzers.
Requires a valid Georgia driver's license before employment.
Must pass the Cooperative's employment physical and drug screen.
Excellent oral and written communication skills.
Excellent interpersonal skills to interact with employees, members, and the general public.
Demonstrated public speaking and presentation skills and the communication and interpersonal skills necessary to effectively communicate and relate to builders, developers, architects, consulting engineers, and other individuals associated with commercial and industrial development.
Develop and implement a strategic marketing plan related to commercial and industrial prospects and to analyze and evaluate the results attributed to such a plan.
Organize and coordinate formal commercial/industrial marketing presentations, both in written and verbal form.
Develop an interest in the ideals and objectives of an organization which is concerned with the Rural Utilities Service and the conduct of its business in a cooperative form of business enterprise and to be in sympathy with same. Attitude in the position must reflect a willingness to cooperate, perform, and contribute to the department's goal of providing service to the total organization.
Pursue a continuous program of self-development both inside and outside of work hours in furthering his/her knowledge to develop in the job and accept increasing responsibilities.
Proficiency with personal computers & Microsoft Office Applications (i.e., OUTLOOK, WORD, EXCEL, POWERPOINT).
Demonstrated expertise in electrical distribution industry, particularly with commercial/industrial members.
Both office environment and outside work involving site visits is required. Some stressful conditions due to competitive atmosphere and problem resolution with customers and internal organizations. Business travel and occasional irregular hours are required. Must be prepared to report for storm, disaster, selected outages and severe weather responses and for associated special responsibilities.
Supervisory Responsibility
None
Essential Demand or Condition and Position Specifics
Sitting: Continually sits at work station
Standing: Frequently stands
Walking: Frequently walks to greet members
Driving: Frequently drives
Talking: Continuously uses speaking to communicate with members, co-workers and contractors while conducting work activities. Talks with others face to face, telephone and via two-way radio.
Hearing : Continuously uses hearing to communicate with coworkers, members, customers and vendors. Occasionally uses hearing to operate or monitor equipment.
Visual (include color perception): Frequently uses sight to complete tasks with computer, phone and paper. Occasionally required to evaluate supplies or equipment readings based on colored lights or colored coding.
Lifting or Carries: Occasionally lifts or carries materials weighing up to 10 lbs. Occasionally lifts or carries materials that weigh up to 40 lbs.
Pushing or Pulling: Occasionally twists, pushes and pulls to file or retrieve documents.
Bending or Stooping: Occasionally bends or stoops to file or retrieve documents.
Kneeling, Squatting or Crawling: Occasionally kneels, squats or crawls to file or retrieve documents.
Climbing or Balancing: Occasionally climbs or balances during plant or site visits
Twisting or Reaching: Occasionally twists or reaches to file or retrieve documents.
Gripping or Grasping: Frequently grip-grasps mail to open and sort or to operate office equipment.
Fine Manipulation: Frequently uses hands to operate computer and office equipment
Operating Controls: At member facilities sometimes.
Other Physical Demands or Conditions: Occasional working in the community at Coop Events or Coop Business.
Exposure to Extreme Noise – PPE Demand: Occasionally
Exposure to Chemicals: Occasionally
Exposure to Temperature Extremes: Occasionally
Exposure to Slippery Conditions: Occasionally
Exposure to Electric Shock: Occasionally
Exposure to Open Heights: Occasionally
Exposure to Vehicular Traffic: Frequently
Other Exposure Conditions: Occasionally
Disclaimer
The duties identified above cover the major responsibilities of this position. These are not intended to cover each and every aspect of the position. At times, the scope and responsibilities of any given position may change or be temporarily altered and the employee may be required to perform additional or different tasks. The basic requirement of every position with GreyStone Power is to perform all tasks as assigned by the Supervisor.
NOTE: All job specifications and applicant qualifications will be reviewed to assure compliance with the Americans with Disabilities Act.
The applicants need to apply by going to www.greystonepower.com/careers . We are accepting applications through July 22nd.