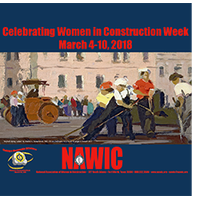 WIC Week was a huge success in Atlanta and included organized three events. Monday night we met with industry leaders at Atlanta's own Monday Night Brewery. This casual craft brewery featured a spacious, high-ceilinged tasting room. We made lasting connections over brews and foods while mingling through the facility tour. On Wednesday we were provided a first look at the updates to the Phillips Arena, home to the Atlanta Hawks. $193 million dollars is being invested into our downtown Atlanta community and NAWIC Atlanta got a sneak peak at the action. A very special thank you to Chasm Architecture & Turner Construction who were instrumental in getting us access to the ongoing renovation. We ended the week with a Friday night Hard Hats and High Heels social event that connected NAWIC-Atlanta members who are industry leaders, government officials and the Georgia Tech Student Construction Association.
Canadian politician Charlotte Whitton once said, "Whatever women do they must do twice as well as men to be thought half as good. Luckily, this is not difficult."
A little gender humor is a great way to begin a month-long celebration for Women's History Month and a week of memorable events to commemorate who we are as women in construction.
It all begins with WIC Week, 2018! Everyone is invited – women, men and college students – to join us March 5-9.
Monday Night Brewing – Monday, March 5 from 5 p.m. – 8 p.m.
The week kicks off with a meet and greet at Monday Night Brewing, located at 670 Trabert Ave. NW, Atlanta, 30318.
This is a great time to network and meet industry leaders in a casual craft brewery that features a spacious, high-ceilinged tasting room. Check out their website: mondaynightbrewing.com.
You'll have an opportunity to tour the facility and taste some of the unique craft beers that have made this place an Atlanta favorite for those who enjoy exceptional brews.
Admission to the event is free and includes food, drinks and two beer tasting tickets.
Phillips Arena Job Site Tour – Wednesday, March 7 from 1 p.m. – 3 p.m.
Grab your hard hat and get ready for a behind the scenes look at the Philips Arena renovations.
NAWIC has been given this exclusive opportunity for 35 members to take a job site tour as the arena is being transformed into a newly designed state-of-the-art facility for the Atlanta Hawks. This event will sell out! RSVP a.s.a.p. to attend.
Hard hats, safety vests and glasses are required to participate.
Tickets are only $10!
Hard Hats and High Heels – Friday, March 9 from 5– 9 p.m.
Hard Hats and High Heels is back with more flare than ever! This year's happy hour will take place at Mid City Café, located at 845 Spring St. NW D1, Atlanta, 30308.
Ladies, grab your most fabulous heels for a chance to win prizes!
This special event is hosted by the Georgia Tech Student Construction Association and is a fun night of networking and meeting the up and coming construction talent. We also have a host committee of industry leaders, government personnel and business owners who plan to join us.
The bartenders at Mid City Café have created a custom mixed drink, made especially for us on this night only!
Light appetizers will be provided, and drinks will be available for purchase.
GT students attend free. Member and non-member tickets are $15 and must be purchased no later than Tuesday, March 6th.
Don't miss these incredible opportunities for us to come together to celebrate the diversity and strength we bring to the workforce each and every day. RSVPs and ticket purchases can be made on our website, nawicatlanta.org.
We look forward to seeing you soon!
---