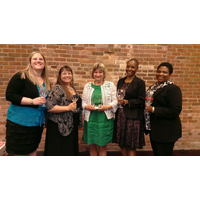 L

ynn Logan
Region 2, 2012-2013

Member of the Year

Congratulations Lynn Logan!!
NAWIC Atlanta nominated one of our own for Region 2, 2012-2013 Member of the Year. On Saturday, April 27, 2013, our nominee, Lynn Logan, won Region 2 Member of the Year! NAWIC's Region 2 is comprised of NAWIC chapters in Nashville, TN # 16, Atlanta, GA # 49, Greater Birmingham, AL #53, Knoxville, TN # 61, Albany, GA # 65, Columbus, GA #65, Montgomery, AL #267 and Sugarloaf, GA #360 (as well as several members at large).
About Lynn:
Our nominee is a 30+ year member who started out as part of the Birmingham chpt before joining the Atl chpt. She has served on every chpt committee, either as a chair or committee member. She has also served regularly as a Region chair.
She has recruited countless members, served on the chpt board numerous times and as Chpt President multiple times. No matter what was going on in her personal life, she never missed a beat with her responsibilities to her NAWIC commitments.
She & her husband own a masonry company & have been sponsors countless times for the chapter and on a Regional level. A lot of her financial support has been with out recognition. She and her husband and daughter love classic cars and even drove cross country a couple of years ago with a group of fellow Classic Cars enthusiasts. If you see her at convention, chances are her mom is her traveling companion. She has a fantastic sense of humor and is like the energizer bunny, always going.
Our nominee is more than a member, she is family & is responsible for mentoring many of us. We know that if she won this award she will be surprised but she is more than worthy of this recognition and it is one of the best ways our chapter could honor and celebrate her.
---