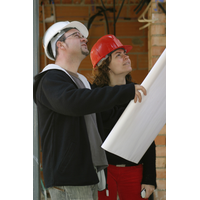 Women in Construction are Building Atlanta's Economy
By Danita Dyess
Atlanta Careers Examiner


Atlanta's biggest construction companies provide lucrative employment for many of our Georgia residents, specifically women and minorities. Turner, Holder, New South, Choate, Hardin, H.J. Russell and Brasfield & Gorrie construction companies actively recruit and train these talented segments of the workforce. As a response to the shifting demographics, many of them have developed innovative programs or "universities" with a vast array of online and onsite courses that promote diversity.
Consider the statistics for one specialization, subsector 236, construction of buildings. Three Atlanta counties and their figures for construction workers – DeKalb – 1,026, Gwinnett – 2,821 and Fulton – 4,674 – contribute to the state total. Long-term industry projections reveal an increase from 44,874 workers in 2008 to 47,214 in 2018. The average wage for construction workers for the 3rd quarter of 2011 was $25.53/hour, $1,021/week or $53,092/year. On April 28, 2012, the Department of Labor listed 20+ jobs for sheet metal workers, dry wall mechanics, floor layer specialists, paving foremen, roofers, and carpenters representing 28 counties.
However women hold other key positions. The National Association of Women in construction (NAWIC), www.nawicatlanta.org/board.htm, is supported by members and leaders like Lynn Logan, parliamentarian and Kimberly Cameron, chair. Careers in construction also include law, marketing, and education. Georgia Tech has women professors and directors in the colleges of construction and architecture.
Today young women learn about their career options in the construction industry in high school. Furthermore, scholarships provide the means for higher education and advancement like the endowments sponsored by NAWIC Atlanta Scholarship Foundation, www.nawicatlantascholarships.org. I spoke with Stephanie Golias, CIT, Region 2 Director, Hudson Construction Company and NAWIC member about the industry.
Read the complete article – HERE
---