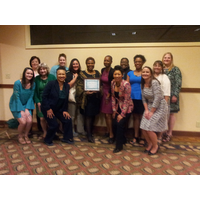 NAWIC Atlanta brought home Region Awards!
The following awards were presented to the Atlanta Members:
Outstanding Regional Membership Award: presented to Atlanta Chapter for 58% new members recruited
Rookie of the Year: Melissa Logan, Atlanta Chapter
This is a great way to show our honor and commitment to Building Our Education, Our Careers and Our Futures as we Build Our Chapter too! Congratulation Atlanta, we are very proud members of the work done by our Chapter!

---